Trendy Tadpole, Funny Baby Clothes
Funny is right, my husband giggled about the "AB/CD For those about to read, we salute you" for days.
The owner has such a lovely (and familiar) story:
"What is Trendy Tadpole? Fun tee shirts on super quality fabric that is made in the good ol' U.S. of A. It all started in 2004 when I decided it was time to work for myself. My therapist says I am running a sweatshop but I am the only one in it! Yikes. My inspiration came from the students I was teaching and the kids I was babysitting and I love challenges. Trendy Tadpole and it's owner, me (Julie Pruitt), are a work in progress.
I am bringing pop culture, a hint of nostalgia, and a pinch of fun to the table in every tee shirt. I am constantly changing designs, styles, and ideas to meet the needs of, well, um, you! I love feedback, so if you have brilliant ideas that will make this mom and pop, minus the pop, shop even greater, lemme hear 'em. It only took wine, lots of sweat, and plenty of tears, but it was all worth it. I hope you enjoy the tee shirts as much as I like
a glass of wine
making them."
My son has already placed an order.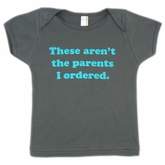 Now it's your turn, trendytadpole.com.